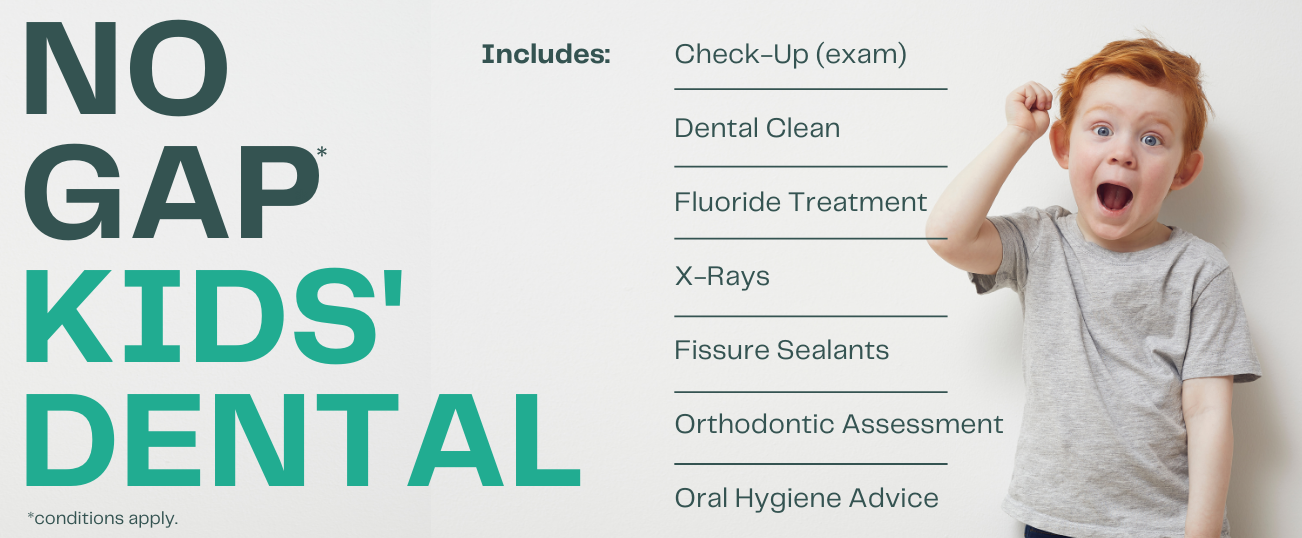 Building good oral hygiene habits at a young age is an investment in your child's future.  At Blackwood Dental, children 17 and under visit us GAP FREE!
At Blackwood Dental, we believe dental care for children should start from a young age.
Even though baby teeth will eventually fall out and make room for adult teeth, it doesn't mean regular check-ups and cleaning aren't as important. One of the major roles of baby teeth is to maintain space and guide the adult teeth into the correct position once they emerge.
To ensure sure your child has the best start possible to their dental life, we are pleased to offer NO GAP preventative treatment for all children 17 years and under, covered by available Dental Health Benefits.
With no out of pocket costs for your child's dental check-up and professional scale and clean, Blackwood Dental is your one-stop-shop for looking after the oral health of your entire family.
What's included?
We will cover the gap on the following dental services, at no out of pocket cost to you:
Check-Up (exam)
Dental Clean
Fluoride Treatment
X-Rays
Fissure Sealants
Orthodontic Assessment
Oral Hygiene Advice
What is NO GAP?
If you have health insurance, your health fund will pay for a proportion of your dental treatment. That leaves a 'gap' in the bill, which you would normally pay yourself.
Simply put, NO GAP means that you are spared from any out-of-pocket expense that you would otherwise make.
NO GAP Terms & Conditions:
To be eligible for our NO GAP dentistry you must have current private health cover with an Australian Health Fund who is able to claim their rebates for dental cover at Blackwood Dental.   No out of pocket expenses means no out of pocket expenses after your health rebate and is valid for children 0-17 years old. NO GAP is valid for two visits per calendar year and includes: check-up (exam), dental clean, fluoride treatment, x-rays, fissure sealants, orthodontic assessment, and oral hygiene advice with our Oral Health Therapists, Claire Battersby and Olivia Keates. Promotion does not include mouthguards, stainless steel crowns, or orthodontic treatments. Offer available to new and existing patients.